Working in the Microsoft Dynamics Partner ecosystem for the last 12 years has been enriching and I must have answered thousands of questions from my customers/prospective customers about which ERP/CRM product they should consider and what is our recommendation as their implementation partner. During the last 12 months, the set of questions has expanded even to include the infrastructure recommendations (which was not there earlier) – with almost everyone asking whether their ERP/CRM installation should be an On-Premise or an Online (On Cloud).
From a customer's perspective, we being a Dynamics 365 partner are trying to cover the most predominantly asked questions around Dynamics 365  (the latest launch by Microsoft).
Can I continue on an On-Premise environment even after the release of Dynamics 365?
Of course yes, Dynamics 365 also as an On-Premise version released – with some limitations around the functionality – eg: with Sales app users in CRM, the Offline Mobile syncing feature is not available
How can I shift my On-Premise Dynamics CRM/ Dynamics AX license to Dynamics 365?
In order to 'Transition' the current Dynamics CRM / AX License to D365 On-Cloud version, the first prerequisite is that the current license should be active on Business Ready Enhancement Plan (BREP). The customer should acknowledge the fact, that there could be some changes in the functionality deployed in the current solution. For the existing On-Premise user there are special pricing Stock Keeping Units (SKUs) published by Microsoft.
Customer can use the 'From SA' or 'Cloud Add-on' SKUs to transition to Dynamics 365:
From SA- The From SA SKUs are available only at renewal for customers with fully-paid perpetual licenses. At renewal, customers have the option to drop their SA/Enhancement and Cloud Add-on SKUs and transition to the 'From SA' SKU.
Cloud Add on – The Cloud Add-on SKU is a low-cost option for customers to add Dynamics 365 at any time while maintaining their current licenses. The qualified transition SKU applies at renewal and will be available to renew until November 1, 2019.
Do I need a Dynamics 365 partner after migrating from On-Premise to On-Cloud?
Though the roll-ups released by Microsoft on Dynamics 365 shall be automatically applied, it is still recommended that the environment is verified by the implementation partner after rollup application – to be sure that the environment is working correctly.
You will still need the involvement of a Dynamics 365 partner to map the Dynamics 365 functionalities with your business processes, develop customized features, train, test and deploy the solution.
Is my business data secure in Dynamics 365?
You should not worry about the security of your business/financial data with Dynamics 365 – in the majority of the scenarios, it is much more robust than your existing On-Premise installation. The guiding factors governing the security are included in the following points:
Dynamics 365 is built using the Security Development Lifecycle, a mandatory Microsoft process that embeds security requirements into every phase of the development process.
Azure Active Directory helps protect Dynamics 365 from unauthorized access by simplifying the management of users and groups and enabling you to assign and revoke privileges easily.
Microsoft uses encryption technology to protect your data while at rest in a Microsoft database and when it travels between user devices and their data centers.
Dynamics 365 production environments are monitored to help protect against online threats by using Distributed Denial-of-Service (DDoS) attack prevention and regular penetration testing to help validate security controls. At the interface with the public network, Microsoft uses special-purpose security devices for firewall, NAT, and IP filtering functions.
Privacy controls help you configure who in your organization has access to the service and what they can access.
To help you comply with national, regional, and industry-specific requirements governing the collection and use of individuals' data, Microsoft offers the most comprehensive set of compliance offerings of any cloud service provider.
How do I compare my application TCO between an On-Premise CRM/AX installation vs Dynamics 365?
Most of us know that On-Premise solutions cost more in the initial year/s and recur in 5 or 6 years, which is the average lifetime of a server. There are a lot of non-financial costs you need to consider when making a decision on deployment, but it does help to see how these costs evolve over time. Let's take a look at this simple chart comparing the TCO of an on-premise solution versus a cloud ERP solution – though we are talking about Dynamics 365 in this article.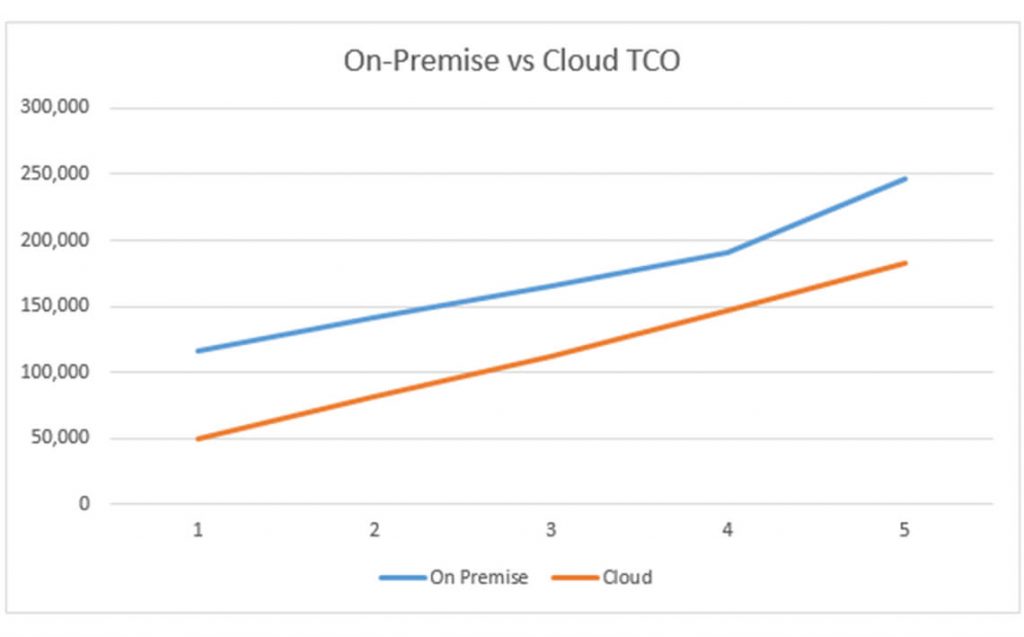 The numbers in this chart are meant to illustrate the cumulative spend of ERP over a 5-year period and should not be taken into consideration for any calculations. 
Before you make any decisions, you should speak with a Dynamic 365 partner like Alletec for a full comparison of all On-Premise, cloud, and hybrid options based on your own business requirements.