One of the core challenges around managing field service operations is to ensure the person with the right skillset is sent out to carry out the work on the field. It doesn't get easier when you are into a dynamic business spanning across wider geography with a mix of company and franchise-operated service ­models and then you must adhere to the competitive turn around times promised to the customer.
Efficient scheduling is a continuous improvement process but to start with, Field Service companies need to move from paper-based processes to a digital solution. One of our customers, in office equipment's space, had expressed challenges in managing their field service operations w.r.t the amount of time spent on managing the paper-based work order packs and then later logging in to the back-office desktop to feed the information manually into the system leading to data inaccuracies. Many a time On Field Technicians do not have adequate information available to them in terms of the appointment schedule, service location, customer details, asset details, etc.  and hence there is a lot of to and fro communication between Field technicians and back office. This gets streamlined with our Field mobile app solution on the Power Apps Platform which provides complete visibility of the service order and asset service history to the technician while 'on the move' itself and thus it increases the first time fix rates.
Our solution offering emphasizes on the primal aspects of field operations like;
Generation of preventive maintenance service orders automatically as per the contract with the customer
Auto allocation of service orders to field technicians
Managing service calendars to check technician availability
System-generated alerts to technicians on service order allocation
Map Guided Navigation to reach the service location for technicians
Acceptance and rejection of allocated service orders by technicians on his mobile device
System generated Notifications keeping the customer informed throughout the entire life cycle starting from service request creation to stage updates
A technician can record key service metrics (such as machine/asset condition ratings, measurement values, etc.) for back-office preventive maintenance services planning
A technician can record the spare consumption as well as hours spent on the service order on the field mobile app itself.
A technician can raise a spare and site kit requisition if the part is not available on the mobile app itself, which earlier was an additional activity to be done separately. This has led to the reduction in lead time for parts replenishment and hence service call closure.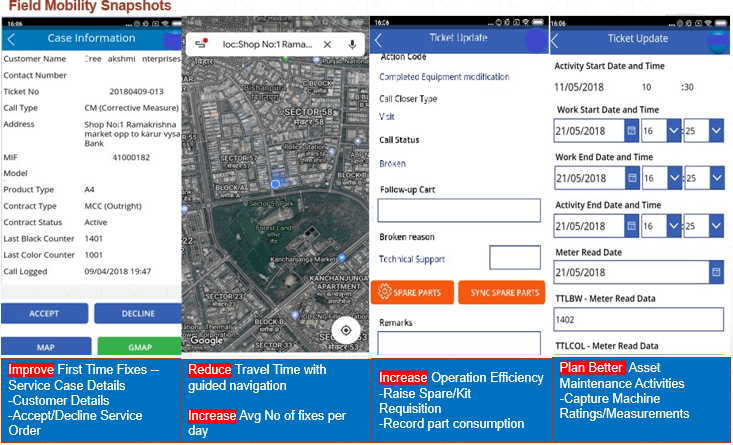 The field mobile app solution is built on the Power App platform which integrates seamlessly with D365 Customer Engagement. The solution is perfectly suited for field service companies looking to digitally transform its paper-based service order management with an efficient mobile-enabled Field Solution.