Microsoft's ERP offering for the SMB segment called Dynamics NAV has been historically available to customers in an on-premise deployment mode. Customers have had the option to host it either in their on-premise infrastructure or some third party cloud infrastructure. Keeping in line with its vision of Cloud First, Microsoft launched SAAS based Business Central bringing Dynamics NAV to cloud.
Till now Dynamics Business Central was available on cloud only. With the October 2018 release an on-premise offering of Business Central is also available. Dynamics NAV customers can now upgrade to Business Central on premise, move to the cloud, or adopt a hybrid approach. We have listed down few Business Central features from the latest October 2018 release.
On Cloud, Hybrid & On-Premises Availability: With October 2018 release Dynamics NAV transitioned to Business Central on Premise. Business Central is no longer a "cloud-only" application. With NAV's inclusion, Business Central will also be available as on-premise and hybrid implementations. The transition for a customer is highly smooth and seamless. With the new upgrade, Business Central will have the same UI and Ease of Use across all platform regardless of deployment mode. With Business Central Hybrid deployment, customers will be able to use Business Central from on-premise deployment while a tenant is being replicated on the cloud. At any time, they can switch to cloud or recover data from the cloud in case of disaster.
Access from Anywhere: Customers can access Dynamics Business Central using Windows 10, iOS & Android apps. Bringing Digital Transformation to your business, it allows customers to be connected with the businesses at all times.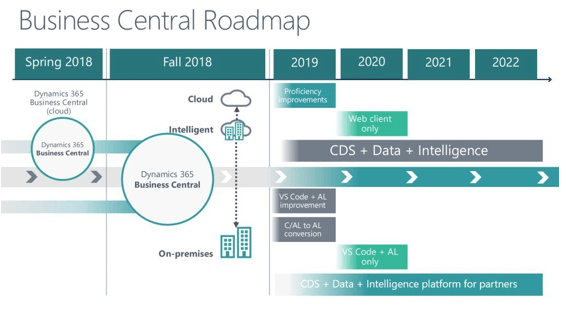 The application is available on:
Windows 10 (desktop, tablet and phone)
Android (tablet and phone)
iOS (tablet and phone)
Enhanced user experience – Business Central users get a further streamlined, refreshed and modern user experience with many improvements helping customers to become more productive while simplifying learning curve to new users. 

Improved keyboard navigation and shortcuts: Get a mouse-free experience with a variety of keyboard shortcut combinations, including the Alt+F3 shortcut to filter the current value. Customers can navigate through cells and create filters using keyboard shortcuts. Use F8 shortcut that copies the cell above. New update has also implemented industry-standard shortcuts of Ctrl C & Ctrl V.
Enhanced Search: New enhanced search lets customers find what they want, in a much easier way. The search algorithm has been improved, now the result page offers the additional abstract of the result to understand it better. The Search field has been replaced with Search for Page or Report field. Customers can not only use it to find objects such as pages and reports, but also to find actions and product documentation.
Fresh UI: Microsoft has come out with a new user interface which is easier to use, simple & intuitive. The new layout focuses on utilizing more screen space with better visibility while providing easier navigation to the entire platform.

New Features to Improve Productivity:

Advanced filtering – The filter pane allows customers to create custom filters to get better and faster results. Business Central remembers the filters you applied throughout the session and allows the customers to:

Get an overview of the currently applied filters, and see if they were set by user or application.
Use lookups or the field's data type to specify filter values
Create complex filters using operators, ranges & variables.

Limit Totals: With this release, Business Central gives customers control to apply filters to one or more dimensions that influence computed values.
Scalable Grids: Grids have become more scalable to accommodate larger sets of business data. In order to improve efficiency, the new grid allows customers to copy and paste data using industry standard shortcuts of Ctrl C and Ctrl V. Customers can also copy data to the clipboard to use it in other softwares (MS Excel, Outlook etc.). Based on customer's demand new grids can be scaled to add more rows and columns.
Permission Sets Are Editable: In Business Central October Release, the Permission Sets can be created, modified and indented.

Enhanced Power BI Embed Experience: New Power BI tools are embedded within the Business Central Application. Improvements include:

Automatic deployment of Power BI reports
Default report selection
Manage Power BI reports from the Business Central dashboard.
Power BI reports will be automatically deployed and selected when customers sign in for the first time. Customers can also customize and edit the integrated Power BI reports.
Intelligent edge for Dynamics GP, Dynamics SL, and Dynamics NAV: leveraging its PAAS and hybrid cloud capabilities, Microsoft is empowering on-premise customers to take full advantage of cloud-based solutions. With intelligent edge, customers can seamlessly connect their on-premises Dynamics SMB solution to the cloud and get access to Power BI, machine learning, Microsoft Flow, PowerApps and other. Microsoft securely replicates customer's on-premises data to the cloud and deliver back actionable analysis and content. The intelligent cloud leverages solutions such as Power BI, PowerApps, Flow, and AI to provide insights and actionable messages enabling the customer to run their businesses even better.
New Markets: With October 2018 release, Localised version of Business Central is available for three new markets.