Widely accepted as the fourth industrial revolution, the winds of 'Digital Transformation' are threatening to rapidly sweep away the 'old' businesses. Steam power, which brought mechanization to the industry at the end of 18th century – is considered the first industrial revolution. About a century later – the invention of Electricity, along with the discovery of oil & gas – which made mass production possible – brought the 2nd revolution. The third industrial revolution came another century later, around the middle of 20th century – with the advent of nuclear energy, the rise of electronics with transistors, microprocessors, computers, and telecommunication. This third revolution leveraged electronics and information technology to automate production. The currently underway Digital revolution – widely accepted as the fourth revolution –  is blurring the lines between physical, digital and biological spheres. The impact of this digital revolution is so strong and widespread that traditional business models are getting rapidly demolished.
For businesses, Digital Transformation is about moving away from selling products and services and making the Customer experience the fundamental of business. This requires reimagining models of customer engagement, employee empowerment, process optimizations, and remodeling products & services. It's about bringing people, data and processes together – in ways hitherto unthought of.
Satya Nadella had famously said – 'every company is a software company'. To succeed with Digital Transformation – every dimension of a business – sales, purchase, marketing, product designing, production, operations, HR, and everything else need to pivot around the technology transformations underway. Gathering data at every stage – through connected people, systems and 'things' – bringing the data back into backend systems, analyzing the data, and actioning on the analysis to enhance the customer experience and remodel offerings – are core to digital transformation. Whether it be proactive triggering of preventive maintenance before a device fault surfaces, gathering customer sentiments and remodeling products, or uncovering and acting on unknown patterns through big data analytics and machine learning -the SMAC stack, and connected 'things' are enablers of the digital transformation businesses are trying to achieve.
McKinsey suggests that instead of being seen as a thing, digital should be seen as a way of doing things – creating value at the new frontiers of the business world, creating value in the processes that execute a vision of customer experiences, and building foundational capabilities to support the transformation. For someone looking for a more structured definition – Digital transformation is the profound transformation of business and organizational activities, processes, competencies and models to fully leverage the changes and opportunities of a mix of digital technologies and their accelerating impact across society in a strategic and prioritized way, with present and future shifts in mind (i-scoop).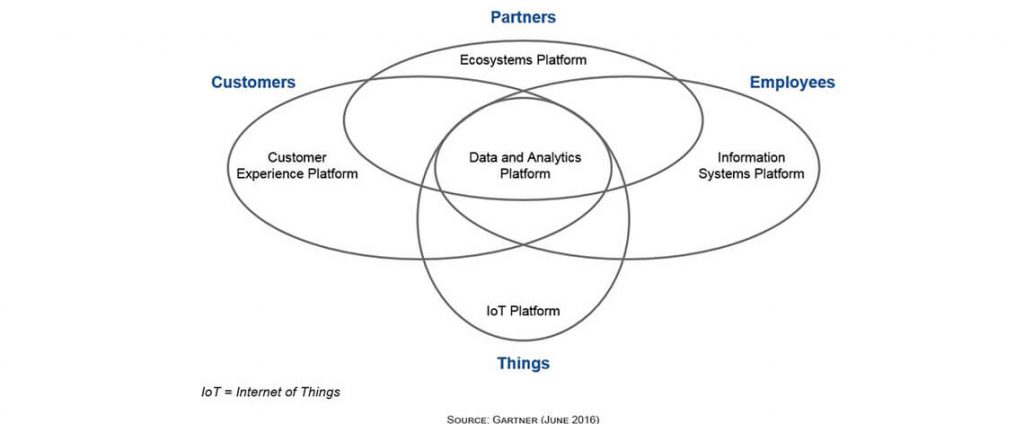 Taking a technology view, a digital business has five 'platforms' as enablers:
Information Systems platform
Customer experience platform
IoT platform
Ecosystem platform, and
Data & analytics platform
These platforms are built with service-oriented architecture, and interoperability is key. Some components may be common across platforms. The services across these platforms may then be used for building diverse systems.
The Information Systems platform comprises of:
Back office systems (like ERP), for system of records for master and transaction data
Core industry systems, like for banking, telecom or healthcare
Supplier portal and apps
Customer portal and apps
BI for reporting and decision making with data visualization and OLAP
Endpoint computing, that includes devices, security, and management
The Customer Experience platform enables interactions and commerce with customers. It comprises of:
Multichannel interaction and commerce
Social networks
Customer analytics
Customer portals and apps
Back office systems
The IoT platform integrates endpoints, bringing together connected 'things' – belonging to the enterprise, customers, vendors, partners, and maybe employees – with IT systems, and provides IoT Analytics.
The Ecosystem platform creates value for the enterprise by collaborating with external business ecosystems. This requires API driven interfaces for data, systems, and processes, to work together with external systems of new partners, customers, marketplaces, communities, financial systems etc. Usually, there would a different set of APIs for each category.
The Data and Analytics platform delivers descriptive, diagnostic, predictive and prescriptive insights. Each of the platforms mentioned here has components to provides data analytics.
While we have described above what 'Digital Transformation' is, it is also important to mention, what it is not:
Adaption of any technology, systems, infrastructure, or platforms – that only assist in automating enterprise record management systems (like ERP and CRM), enhance productivity, or optimize processes & operation – is not digital transformation, unless it is targeted at transforming the customer experience. Not to misunderstand – each of these components is a vital part of the digital transformation, but are not by themselves digital transformation.
(parts of the content here are drawn from various sources, including Gartner, McKinsey, Microsoft, Forrester, and i-Scoop)