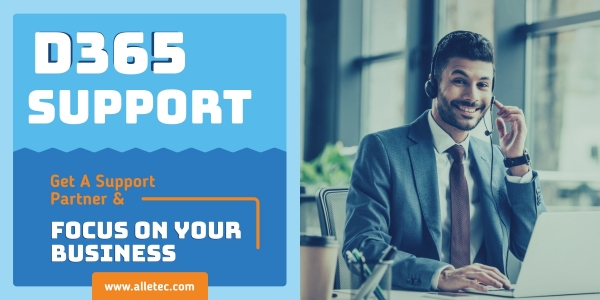 Businesses around the world lose focus of their core business priorities when technology glitches hamper their business activities, forcing them to spend time on IT. In-house IT teams do bring control but also bring the worries and demand mindshare of top management.
Smart businesses focus on their core business activities while leaving the allied support processes to partners. These often include consulting, technology and infrastructure partners covering the entire IT landscape.
Users in global organization work in diversified geographies and time zones – often requiring continuous availability of support. Complex business applications like Microsoft D365 ERP and CRM demand professional support.
The recipe for successful D365 support system includes the following key ingredients:
'Acknowledgement' and 'Availability when needed' are the prime parameters for success of any support system. Dynamics 365 Support partners offer round the clock helpdesks with teams comprising functional and technical experts. With a matured support model these teams prioritize and resolve issues in line with SLAs and ticket priority.
Support teams working on multiple projects gain knowledge from multiple projects. This accrued knowledge plays a vital role when a business faces an incident. D365 support teams have prior experience in most cases with other clients which they use to quickly resolve the issue.
Dynamics 365 support teams have shared resources on standby which they deploy on the client or ticket needing the most attention. In hours of need, partners deploy big teams which are usually beyond budget of most businesses.
Enhanced End Users Experience
Support teams follow structured systems, rely on best practices, take charge of end user training and other associated activities to reduce reoccurrence of issues. This approach improves the performance of your business while bringing down the support costs.
Round the Clock Dedicated Support Desk
D365 Support teams are available round the clock and you can choose from 18×6, 24×5, 24×6, 24×7 support models as per the needs of your business. These teams comprise of functional and technical experts who take care of all your support needs.
D365 support teams deploy standard practices and systems which are not person dependent, anyone from your team can approach the support team which can assign anyone in the team to take care of the ticket. Reduced person dependency reduces turnaround time in case of an issue.
Free-Up Internal Resources
D365 support teams work independently and need little input from the in-house business and IT teams. This reduces the interaction time and gives your team more time to work and focus on their core business activities.
Reduce Operational Costs for Support
 D365 support teams offer support to multiple businesses with a large pool of resources while being much economical than the in-house resources. You have a fixed monthly commitment with no surprises. This reduces the hassles and costs associated with setting up an in-house support team.
Alletec is a trusted Microsoft Gold partner with 24×7 Dynamics 365 support teams offering support to a global network of customers spread in more than 30 countries. Over the years, Alletec has achieved excellence in Managed Support with more than 500 businesses relying on Alletec to provide un-interrupted support to their global users and operations. Alletec offers support for all Microsoft Solutions like Dynamics 365, Dynamics NAV, D365 Business Central, D365 Finance, D365 Supply Chain, D365 CRM & CE, Dynamics AX and Microsoft Azure.
Author- Gaurav Raj