Management of credit and collections information is fundamental to functioning of an organisation. Credit & Collections module in Dynamics 365 Finance offers a variety of features to help manage receivables. You can set up and define information to meet the specific needs of your business.
Although most customers pay their invoices on time, you must be able to process invoices that are not paid by their due date. Accounts receivable collections information is managed in one central view by using the Collections page in Dynamics 365 Finance. Credit and collections managers can use this central view to manage collections.
Let's review the overall business flow of managing credit and collections.
Billing and credit information received by seller.
Seller approves credit terms, and begins shipments to customer.
Customer is invoiced.
Customer fails to pay within terms.
Invoice is referred to collections.
Collections process begins.
Customer Credit and Collections Workspace
Customer credit workspace has a lot of information that you need, you can also personalise this space to include any other information required by you for collection process.
This workspace can be accessed by selecting Workspaces > Customer Credit and collections
A workspace will appear as follows, which can be customised, depending upon activities/lists desired by the user to be listed on their workspace
You can select any company, other than the company you are logged on to from My work tab, also can select any customer from My work tab.
What do we have in Customer credit workspace?
We have tiles depicting various activities.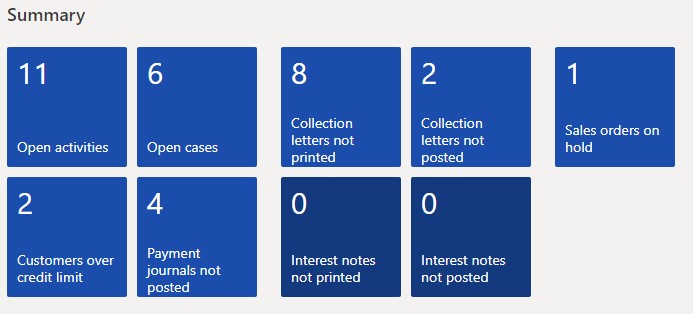 When we click a tile, for example, customers over credit limit, we get a list with ageing analysis

If we click the tile, Payment journal not posted
Similarly, we can access other tiles
Orders on hold

Collection letters not printed
All open activities
If we now scroll to the right, we will see balances area showing 2 graphs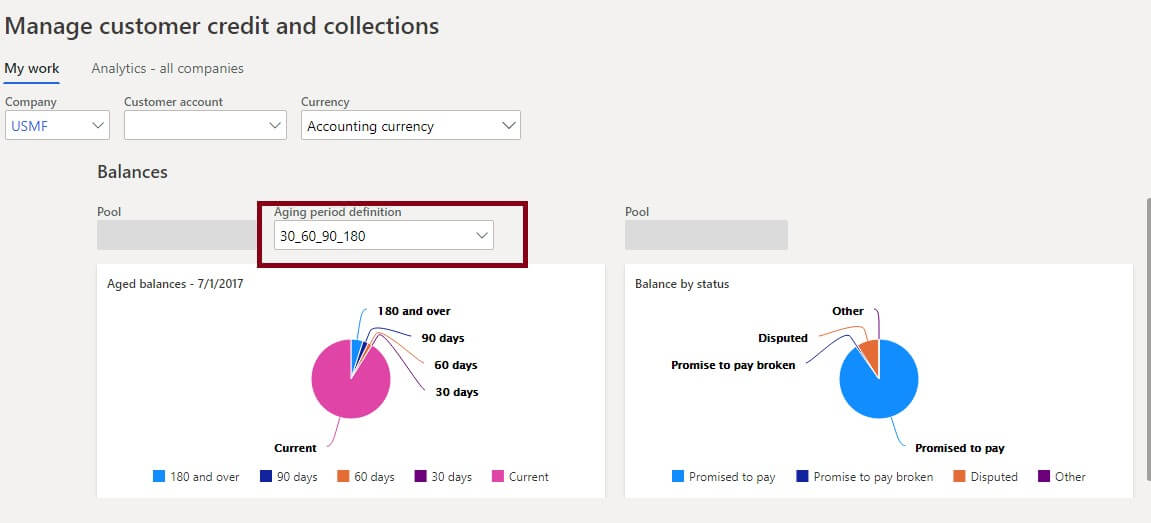 You can select ageing period if you wish to select a different one. You also can view balances by status. In each of these graphs, you can drill down further to balances or information of customers by clicking say in ageing balances, you wish to know customers overdue 180 days or more
Scroll right to your workspace, you will see collections area from where you can get detailed report on collections, customers, aged balances, customers on hold, and so on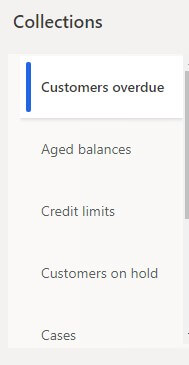 Scroll further to the right and you have links to various reports
Other tasks you can do in Collections module
Print collections letter
Email statements to contacts directly to contacts
Do we have analytics in Customer credit workspace?
The Credit and collections management Power BI content was created for credit and collections managers, and collections clerks. It provides key credit and collections metrics, such as days sales outstanding, balance overdue, credit exposure, and customers that are over their credit limit. It uses transactional data, and provides aggregate views of credit and collections across all companies. It also provides a breakdown per company, customer group, and customer.