Stricter Control over Dynamics 365 Business Central – D365 Business Central Admin Center
Microsoft has transitioned its legacy and widely used ERP product "Microsoft Dynamics NAV" to a new platform "Dynamics 365 Business Central". This newly launched platform is a cloud based ERP solution lowering the total cost of ownership for its customers – since hardware and Infrastructure is completely maintained by Microsoft. The other major advantages include automatic cumulative and platform upgrades, whenever available or needed by the customer.
With the advent of this cloud based ERP from Microsoft, all current NAV customers have to make a decision to upgrade to this platform sooner or later. At this juncture, it is reasonable to have questions over Infrastructure and Database access.  Few very commonly asked questions follow:
I am a current Dynamics NAV customer. Currently my IT team has an access to the On-Premises database and they are able to add/remove users in the application. If I decide to migrate to Business Central Online, then how will my in house IT team monitor the application?
I am a Microsoft Partner. How will I perform the admin related stuff for my customers as I do with Dynamics NAV with access to customer's network infrastructure?
I am a Dynamics NAV/Business Central developer. Currently I have access to the hardware where application is hosted and there I can debug the errors faced by customers in the application. How will I debug any error faced by my customer in the Production Environment with Business Central?
Above queries are quite reasonable and critical from a business point of view. The answers to these queries are available in the Online admin portal now available – named "D365 Business Central Admin Center".
The rest of this blog will talk about the various admin and monitoring features provided by the D365 Business Central Admin Center which can be used by Customers, Partners and Developers to their advantage.
Administration of Business Central Online – from a Customer's POV
With Business Central Online an employee from customer's company is assigned a Global admin role in the Microsoft 365 Admin Center. The person having this role is also known as Internal Administrator.
As an internal administrator, customers can add or remove users and grant or revoke application access. For adding new users or editing current user's product permissions, customers can log on to https://admin.microsoft.com using their Global Admin username and password. After adding users and assigning product licenses in Microsoft 365 Admin Center, these users can be directly pulled in Business Central Online on the Users Page. This feature has really centralized the User Access Management in one portal where Global Admin on customer's side can itself grant or revoke user's access at any point of time which would be applied to Business Central Application.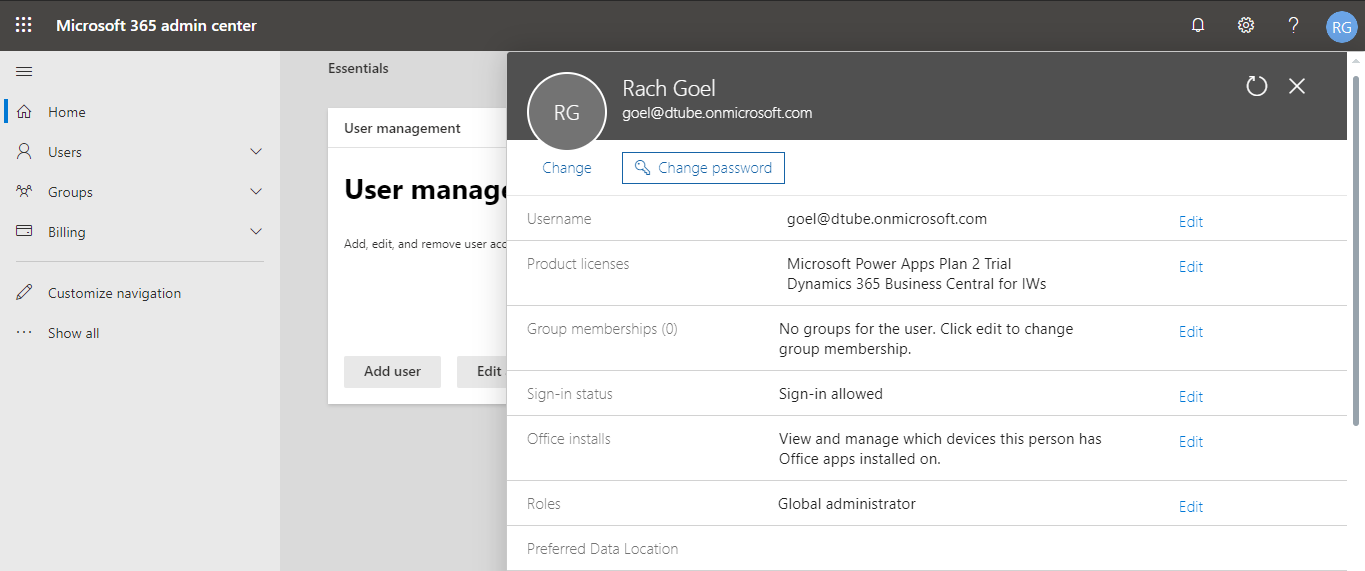 As discussed earlier above, the major benefit of migrating to Business Central Online is having access to regular updates directly from Microsoft and ability to apply those updates without intervention when they are available. With NAV, upgrading to a new cumulative release or to the new platform version can be a time taking process depending on the current business process customizations and database size.
With D365 Business Central Online, customers can directly set up the upgrade window and upgrade date whenever an update is available for their tenant.
For setting up the upgrade date and upgrade window, Global Admin on customer's side can log in their Business Central Admin Center using the following URL
http://businesscentral.dynamics.com//admin
Here TENANTID is to be replaced by actual tenant id of the production environment. Under Environments section on this portal, an upgrade can be scheduled if available.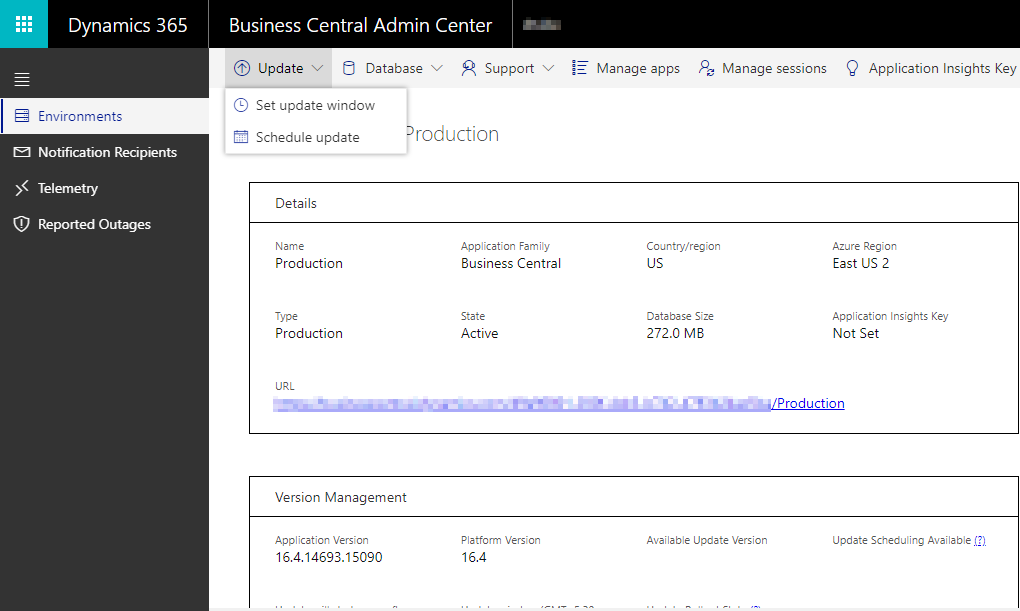 Administration of Business Central Online – for a Partner
What all admin and monitoring capabilities we have seen in the previous section for the Customer is automatically true from the partner point of view as well. Apart from those admin activities, partners can also perform additional admin activities for smooth functioning of the application.
Partners can create or remove environments by using D365 Business Central Admin Center. With D365 Business Central online, environments can be understood as various databases (for ex- Production and Test) we used to have in NAV. Here, with the admin portal in place, partners can very easily create a new Sandbox (test) environment at any point of time without backing up the production database and then restoring it as they need to do with NAV.
To create/delete environments, partners can also log into the D365 BC Admin Center using the same URL-
http://businesscentral.dynamics.com//admin
In the Environment tab, partners can create a new environment based on the requirement. Partners can create a Sandbox environment containing the Demo Cronus data or copy the Production Environment depending upon the need.
A Business Central environment is a collection of apps. These apps include Microsoft apps and third-party apps, for example, apps from AppSource. Updates are frequently made available for these apps by their respective app owners. To keep the environment up to date and running smoothly, Partners can check for the updates and install the latest updates regularly.
To help partners manage app updates, the administration center includes the Manage Apps page.
In case an app update fails, partners can check the reason and its related action on the same page.
Administration of Business Central Online – for a Developer
As we saw in the last section, Business Central Online is a collection of apps developed by various vendors/third parties. One or more apps could stop functioning in a desired manner or might throw unexpected errors to users at any given day due to various reasons. For initial triaging or for troubleshooting these issues, developer or support analyst might require event logs. Also, to understand the root cause of these issues, developers may require the event logs leading up that error faced by user.
With migration to the cloud, Microsoft cannot provide their hardware or infrastructure access directly to the developers. So, in order to resolve this scenario, D365 Business Central emits telemetry data for various activities and operations on the tenants.
We can set up our D365 Business Central tenants to send telemetry to Application Insights. Application Insights is a service hosted within Azure that gathers telemetry data for analysis and presentation.
After looking at all these features we can now say that D365 Business Central Admin Center offers a comprehensive solution for tighter admin control over 'Dynamics 365 Business Central' aka 'NAV on Cloud'.
Author – Rachit Goel