Organization content packs is one of the great features served by Power BI.
Content pack is way by which companies can distribute their own dashboards or reports with their users for consumption through an easy to discover content gallery.
This outmodes the requirement for the user to check their emails containing content available in the company's database. The content gallery in power BI (Get data -> My Organization) makes it super simple to access the data keeping it at one place.
As a content creator, one can make the data available and discoverable not just for the present but for the future audiences. One can do this by packing the content as a content pack and put it in the content gallery.
Creating content packs with just dashboards and reports automatically includes the datasets used by these reports as soon as you upload it.
The Org content pack can be published for the entire tenant or, restricting to a security group/Office 365 group by any Power BI pro user. The Org content pack can be consumed by any Power BI pro user.
It enables the customers to customize the dashboards/reports without affecting other users, but they can't modify the dataset, refresh the dataset etc.
 Importing the data and schedule refreshing by the content pack creator is initiated by using his/her credentials for the imported datasets.
To create and publish Power BI organizational content packs follow the steps:
1. Select the opportunity Analysis Sample dashboard from the left navigation pane.
2. Select the Settings icon > Create content pack, from the top navigation bar.
3. You will need to enter the following information in the create Content Pack window:
Enter the full email addresses for Office 365 groups, individuals, security groups or distribution groups, after selecting the Specific Groups option.
Name the content pack (for example: Sales opportunities)
Recommended: Adding a description helps the coworkers find the content packs they need more easily. Besides description you can also add keywords your coworkers might use and you can also include contact information in case your coworkers need help or have any questions.
You can add an image or logo to make you content pack easily identifiable.
By selecting the Opportunity Analysis Sample dashboard and adding it to the content pack, makes Power BI automatically add the associated reports and data sets.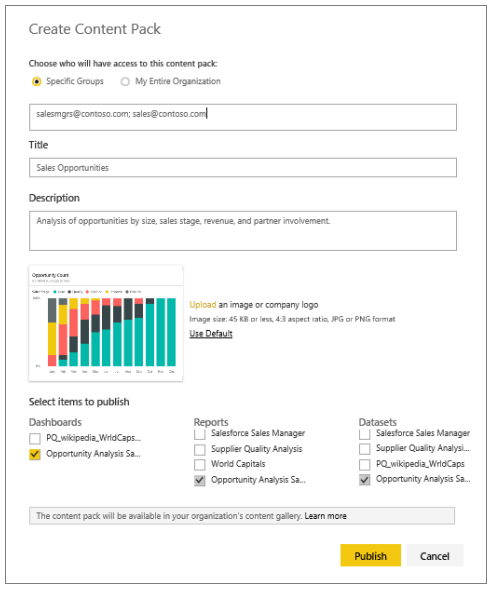 You can also add the Excel workbooks to the content pack (you can see the workbooks under Reports, with an Excel icon
4. After selecting Publish the content pack will be added to the group's organizational content pack library. (you will see a success message when it is successfully published)
5. The members of your group can go to Get Data > My Organization, type "sales opportunities" (or the name of your content pack) in the search box, to see your content pack.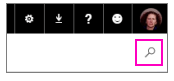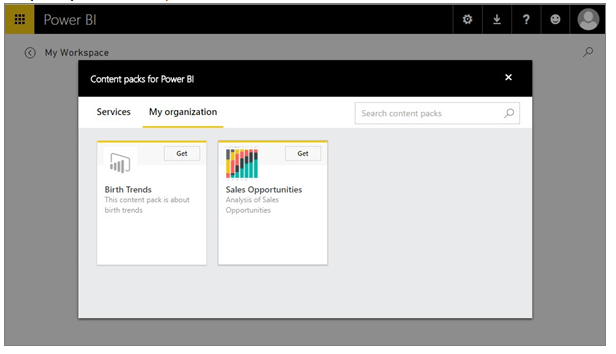 6. When they select Connect, they get the access to view and work with your content pack.