In my last article, I talked about an ERP solution for Process Manufacturing Industry – including the prerequisites for adopting an ERP. In this article, I am covering somewhat similar discussion, but for the Discrete Manufacturing Industry.
In Discrete Manufacturing, the resulting products are easily identifiable whereas in Process manufacturing the products are undifferentiated. Discrete Manufacturing is the production of distinct items such as Automobiles, Furniture, Toys, Smartphones etc. Discrete manufacturing is often characterized by the production of individual units of a product – eg: 1000 BMW cars, 10000 table tops etc.
Discrete manufacturers are always looking for new levels of efficiency and profitability through inventory reductions, increased productivity, better control of material acquisition, improved quality, and reduced lead times. They need full cooperation across production, materials, planning, engineering, finance and sales/marketing with tight data and process management—not only to improve productivity but to catch production before they become bigger issues. Measurements, analysis and simulation capabilities can help companies plan better and react sooner and more effectively to changes in demand, competitive actions, and supply chain disruptions.
The challenge is to find the right software that fits your industry. At Alletec, we know one size definitely does not fit all. Each of our manufacturing software applications has been designed from the ground up based on the best practices and an understanding of the core challenges of the manufacturing industry—as well as input from some of the world's leading manufacturers—our customers.
Alletec offers several options for discrete manufacturers to meet their unique requirements for managing their business processes, from the warehouse floor to the back office. 
Primary questions identifying the need and the key pain areas to be addressed for Discrete manufacturers are:
Does ineffective inventory planning result in higher inventory carrying costs?
Do managing current and retrospective sales price changes pose a challenge?
Does inaccurate accounting of scrap and production losses increase your costs?
Does inappropriate vendor rating affect cost, quality and delivery timelines of supplies?
Is effective management of your dealer/ distributor network crucial to your business success?
Are you a supplier to an OEM or its Tier I supplier – whose tight delivery schedules result in shop-floor chaos?
Alletec's Discrete Manufacturing Solution helps you overcome your operational complexities and provides you the information to support your decision making – whether you are a stand-alone unit, multi-plant, multi-geography, multi-company or a global setup.
The solution supports make-to-order, make-to-stock and engineer-to-order modes of manufacturing. The industries that gain the most from the solution include:
Automotive Components
Industrial Components & Machinery
Electrical Goods 
Steel
Built on the world-class Microsoft Dynamics ERP platform – the solution is robust, scalable and flexible. It not only automates but seamlessly integrates the core business processes to deliver the highest order of efficiency in production & supply chain functions.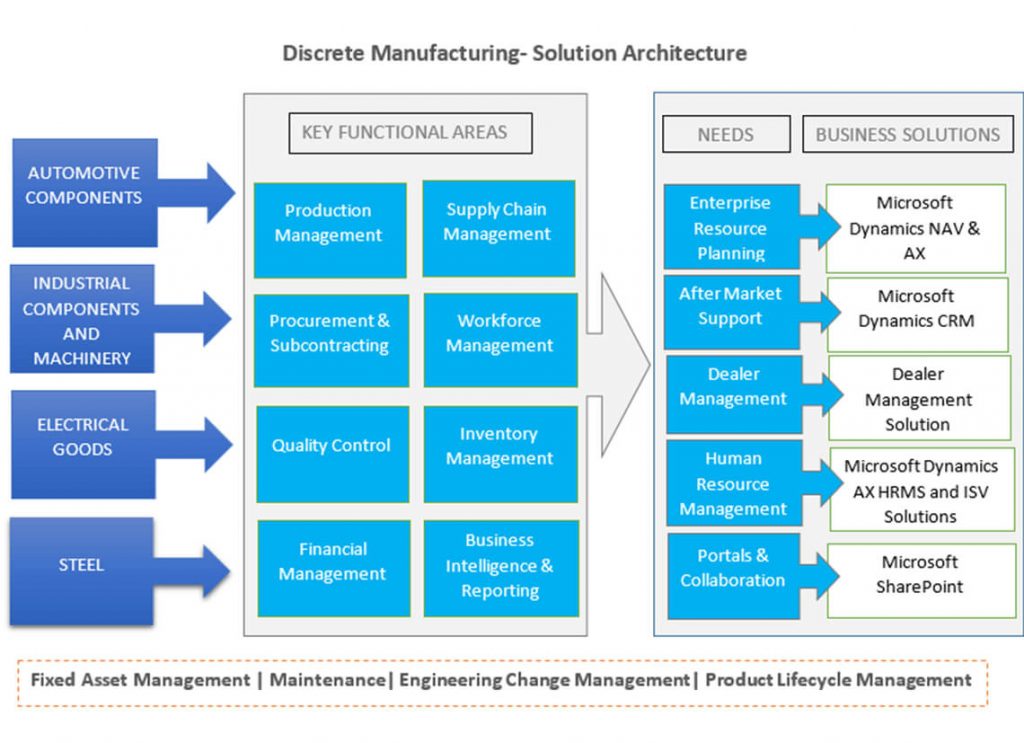 Share us your views or queries about ERP for Discrete Manufacturing Industry in the comment section below. or mail us at info@alletec.com